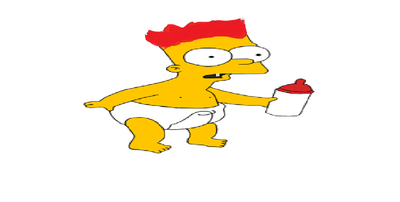 Ryan Simpson (age 3, born January 29, 2013 is the son of Rapsta Chik, he was born with a twin sister Delia.
Biography
Ryan was unexpected, and was unknown as his mother thought she was only having one baby, Ryan's twin sister Delia. Years before the twins, Rapsta miscarried a baby that was six months along. Ryan became a big brother when Abraham was born.
Family
Mother: Amanda Simpson
Father: Bart Simpson
Sister: Delia Simpson (twin)
Brother: Abraham Simpson III
Half-sister: Lisa Ziff (deceased)
Auntie(s): Ghostie Simpson, Maggie Simpson and Lisa Simpson
Paternal Grandmother: Marge Simpson
Paternal Grandfather: Homer Simpson
Maternal Grandmother: Fay Middlestone
Maternal Grandfather: Micheal Middlestone
Maternal Aunt (adoptive): Amy Middlestone
Paternal Aunts: Lisa Simpson, Maggie Simpson
Paternal Great Aunts: Patty Bouvier & Selma Bouvier
Paternal Great-Grandmothesr: Jacqueline Bouvier & Mona Simspon (Deceased)
Paternal Great-Grandfathers: Clancy Bouvier (deceased) and Abraham Simpson
Community content is available under
CC-BY-SA
unless otherwise noted.