Felicia Brooks

Gender
Alias(es)
Felicia
Age
19
Occupation
Singer-songwriter
Rapper
Relatives
Father: Unknown
Mother: Mina Brooks
Brother: Young Prince
Felicia Brooks (born August 11, 1996), sometimes known simply as Felicia, is an American singer-songwriter and rapper. She is known for being the younger sister of American rapper Young Prince. In July 2013, she was signed to his record label, Low Price Records. She released her first single, "I'm Leaving Home" on July 31, 2013, and her debut album, After Hours, on May 20, 2014. She embarked on the Brooks Family Tour alongside Prince and Jane Mik in January 2014. She has recognised Lorde and Lana Del Rey as her major influences.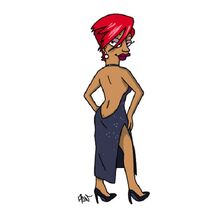 Discography
[
]
Main article: Felicia Brooks discography
Tours
[
]
Promotional concerts
[
]
Filmography
[
]
Film
[
]
Television
[
]
Web
[
]
Awards and nominations
[
]
As a musician, Felicia has won three Springfield Music Awards and seven MTV Springfield Video Music Awards. As an actress, she received the Springfield Academy Award for Best Supporting Actress for her role in Night Visions.