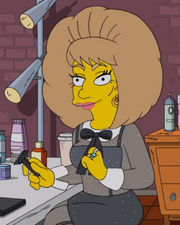 Jonah Waters (also known as Barbra Streisman) is a Springfield based Canadian drag queen, Barbra Streisand impersonator, and singer. Originally from Toronto, Ontario, Streisman gained notoriety as a contestant on the first season of Queen Chanté's Drag Race, placing as the runner-up. After his stint on the show, Streisman was signed to Livin' Life Records, run by Queen Chantè's Drag Race judge Rapsta Chik. Streisman has confirmed he is working on his debut album, which will be a mixture of covers and original songs.
Progress in Competition
[
]
Streisman performed overall well in the competition. Despite being in the bottom two on the impersonation challenge for a failed Judy Garland impersonation, not wanting to be pigeonholed as a Barbra impersonator, his lipsync performance to Kesha's "Woman" saved him. His singing skills were showcased during the girl group episode that he won alongside Lambchop and Helena De Handbag, their verson of "Queen for a Day" was released as a single on March 24. in Streisman made it to the final two alongside KiKi Stems, and lost the lipsync to Rapsta Chik's "Can't Stop Me". KiKi's win wasn't controversial, but Streisman was the breakout star of the season with the most fan support. Streisman won two challenges overall and was in the bottom two once. After the competition, he released a charity single, a cover of Barbra Streisand and Donna Summer's duet "No More Tears (Enough Is Enough)" with fellow contestant Helena De Handbag as a charity release for The Trevor Project. "This is My Night", a cover of the Chaka Khan song, was Streisman's major label debut.
Discography 
[
]
Albums
[
]
Barbra (2020)
Singles 
[
]
2020
[
]
"Queen for a Day" (with Helena De Handbag and Lambchop)
"No More Tears (Enough is Enough)" (with Helena De Handbag)
"This is My Night" from the album Barbra
"Where Have You Been" from the album Barbra
"Turn Me Out" from the album Barbra
"I Drove All Night" from the album Barbra