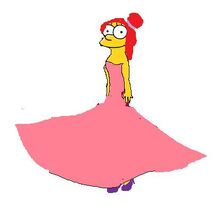 Anna-Lisa Hardstone (nèe Bouvier) is an American model.
Biography
Edit
She was born to Jacqueline Bouvier 9 months after Clancy's death. It's unknown if he is the daughter of Clancy like Marge, Patty and Selma or the unnamed man who is the father of Emily. She was named after the great-great-grandmother of Jacqueline. She had an pretty good childhood the first years of her life, but then Jacqueline gave birth to Emily and her boyfriend dumped her. Jacqueline couldn't pay the bills all by herself so the five children had to give up all their toys.
When she finished college, she moved in with one of her best college friends - Amanda Hardstone. She soon got friends Amanda's sister, Selene, who helped her to achive her life long dream - become a model.
She offically stated in March 2013 that she is a bisexual. "I share the toughts of my favorite band's singer - Billie Joe Armstrong. Why would somebody push down their actual needs because of the society? Afraid to fit in? Every person is actually born as a bi and just pushing it down. F**k homophobia, we are free!" Shortly after that, she married Selene and adopted her last name.